Cable chains serve to guide the loose cables and hoses of machinery. They are mainly used to support cables and hydraulic lines that run from the fixed parts of the vessel to a flexible components or object. Examples are suction pipe systems, skidding systems, jacking systems, spud carrier systems, cutter ladders and crane systems.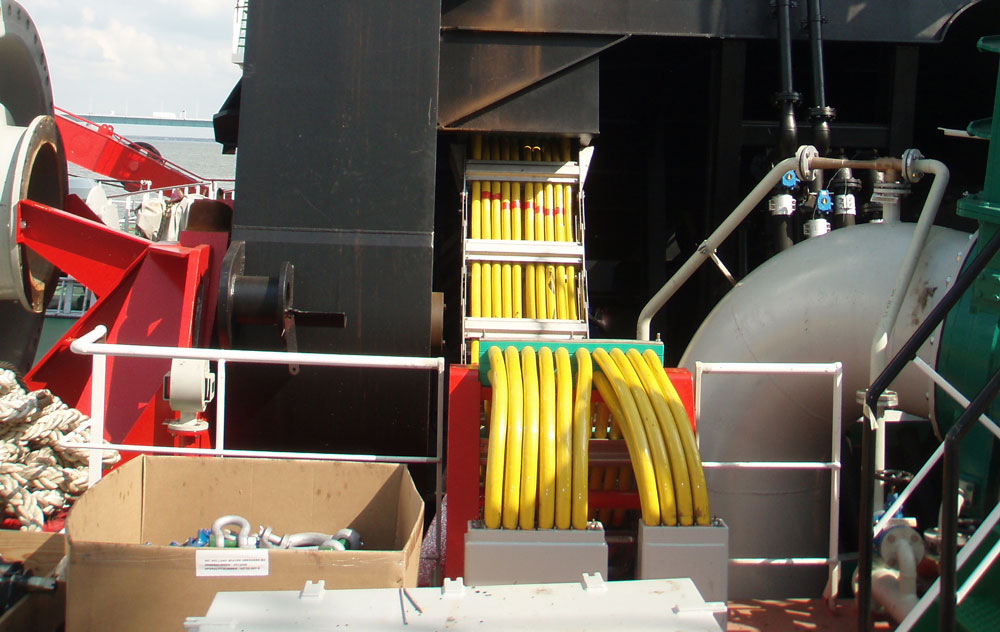 The Van der Leun cable chains are smart adaptable systems. Based on your project specifications, we calculate the radius and load-bearing capacity and provide the ideal cable chain for you. Our cable chains have proven their value on many occasions and in various applications worldwide.
Given the great diversity of applications, each cable chain requires its own unique design. All cable chains are custom-made for each application and we import your application data using state-of-the-art 3D drawing systems.
Our cable chains are made from high-grade, robust and solid stainless steel 316 that remains intact and continues to function optimally even under the most extreme conditions and with the heaviest vibrations on, for example, heavy-rock cutter suction dredgers.
It is important to ensure that a cable chain is properly secured and that the radii of the ship or equipment-based cables and hoses are taken into account. This is at the heart of our standard procedures, based on quality and excellent workmanship. It is what makes us stand out.


Want to know more?
Feel free to
contact

us!